About Capt. Jerry Yellin
__________________________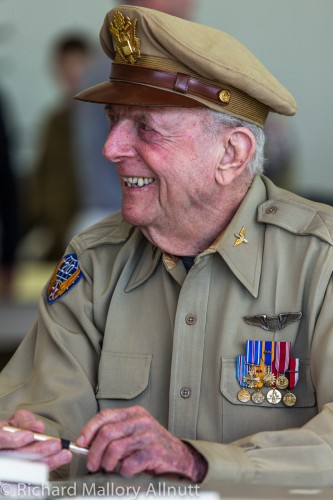 Captain Jerry Yellin served in WWII between 1941 and 1945 in the Army Air Corps. Yellin enlisted two months after the bombing of Pearl Harbor on his 18th Birthday. After graduating from Luke Air Field as a fighter pilot in August of 1943, he spent the remainder of the war flying P-40, P-47 and P-51 combat missions in the Pacific with the 78th Fighter Squadron.
On March 7, 1945 the then Lieutenant Yellin landed his P-51 on Iwo Jima, shortly after the Marines had captured the first airfield on the island. The 78th Fighter Squadron strafed and bombed the Japanese defenders as the Marines battled to take control of the remainder of the island.
He participated in the first land based fighter mission over Japan on April 7, 1945, and also has the unique distinction of having flown the final combat mission of World War II on August 14, 1945 – the day the war ended. On that mission, his wing-man, Phillip Schlamberg, was the last man killed in a combat mission in WWII.
After the war ended, Jerry struggled with severe undiagnosed PTSD. He always wondered why he survived, while so many of his comrades died during the war.
Turmoil, Transformation and Healing
"Then it was over. One day a fighter pilot, the next a civilian. No buddies, no airplane, nothing to hold on to, and no one to talk to. Life, as it was for me from 1945 to 1975 was empty. The highs I had experienced in combat became the lows of daily living. I had absolutely no connection to my parents, my sister, my relatives, or my friends. I listened to some of the guys I knew talk about their experiences in combat and I knew they had never been in a battle let alone a war zone. No one that I knew who had seen their friends die could talk about it. The Army Air Corps had trained me and prepared me to fly combat missions, but there was no training on how to fit into society when the war was over and I stopped flying. I was not able to find any contentment, any reason to succeed, any connection to anyone that had meaning or value. I was depressed, unhappy, and lonely even though I was surrounded by a loving wife and four sons. That feeling of disconnect, lack of emotions, restlessness, empty feeling of hopelessness lasted until 1975.
In 1975, I learned a technique called Transcendental Meditation (TM). In just a few months life became meaningful to me and now, at 91 years of living, I can say that this meditation has brought me peace and contentment. In 1988, my youngest son married the daughter of a Japanese Kamikaze pilot, which took me from hatred to love. I have three Japanese grandchildren. I'd like their contemporaries to know that my grandchildren's grandparents served their countries with honor.  No matter what we learned about the Japanese, or what they learned about us. We are not what we believe — we are all human beings."
Jerry Yellin is the award-winning author of four books, including Jerry's Last Mission (previously titled, Of War and Weddings), The Blackened Canteen, The Resilient Warrior, and The Letter.  
Jerry traveled the world sharing his story and helping to bring healing and hope to a new generation of veterans who are battling post-traumatic stress disorder (PTSD).
He aimed to help heal the wounds of war while dissolve the barriers and misunderstandings that bring us to the point of destroying ourselves.  He delivered an insightful glimpse into the life of a warrior from the perspective of a humble humanitarian.
"We are all the same in the eyes of Nature. Human Beings! We cannot continue to kill people because of what we believe. We need to join together as humans or we as humans will destroy our home, the Planet we all inhabit"
Jerry Yellin was willing to go whenever and wherever he was able to make a difference in people's lives.   His story of peace and compassion was shaped by suffering and sacrifice.  He hoped that in sharing his story, others can find ways to forgive, unite, and avoid the atrocities of war.
"I have everything I need.  I don't need anything else.  I have the time and the desire to do this."
Click on the video below and hear one of Hollywood's top stars, actress Scarlett Johansson, encourage the public to remember the contributions of our World War II generation.