Retired U.S. Army Air Corps Capt. Jerry Yellin attends the 71st Commemoration of the Battle of Iwo Jima at Iwo To, Japan, March 19, 2016.
The Iwo Jima Reunion of Honor is an opportunity for Japanese and U.S. veterans and their families, dignitaries, leaders and service members from both nations to honor the battle while recognizing 71 years of peace and prosperity in the U.S. – Japanese alliance. (U.S. Marine Corps photo by MCIPAC Combat Camera Lance Cpl. Juan Esqueda / Released)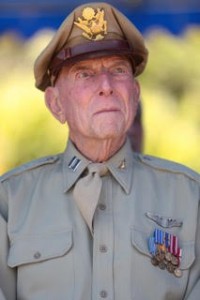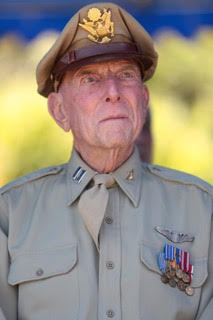 In 1942, two months after the Japanese attack on Pearl Harbor, Captain Jerry Yellin volunteered for the U.S. Army Air Corps on his 18th birthday. Jerry graduated from Luke Air Field as a fighter pilot in August of 1943. He spent the remainder of the war flying P-40, P- 47 and P-51 combat missions in the Pacific with the 78th Fighter Squadron.
Captain Yellin participated in the first land-based fighter mission over Japan on April 7, 1945. He also has the unique distinction of having flown the final combat mission of World War II on August 14, 1945 – the day the war ended. On that mission, his wing-man, Phillip Schlamberg, was the last man killed in combat during WWII.
After the war, Jerry went on to write about his experiences during World War II and is the author of numerous books including Of War and Weddings, The Blackened Canteen, The Resilient Warrior, and The Letter.  His books can be purchased through his website: www.captainjerryyellin.com
Jerry is currently working on a feature film about his life titled "The Last Man Standing." This documentary will explore Jerry's experiences coming to terms with the War and his Post Traumatic Stress Disorder (PTSD). Currently in production, the film will be submitted to various film festivals including Sundance Film Festival in Park City, Utah.
Click here: Scarlett Johannson and Captain Jerry Yellin: Keep The Spirit of 45′ Alive
On June 23, Jerry's wife Helene recently passed away after 65 years of marriage. They had four children together. Jerry currently resides in Orlando, Florida.
For press inquires, please contact tracy@lightfinderpr.com
https://captainjerryyellin.com/wp-content/uploads/JY2.jpg
320
206
Yellin
https://captainjerryyellin.com/wp-content/uploads/Captain_Jerry_Yellin_Official_Website_Logo_Reg.png
Yellin
2016-03-22 21:17:01
2016-05-29 19:52:57
Captain Jerry Yellin attends the Iwo Jima 71st Anniversary Reunion of Honor