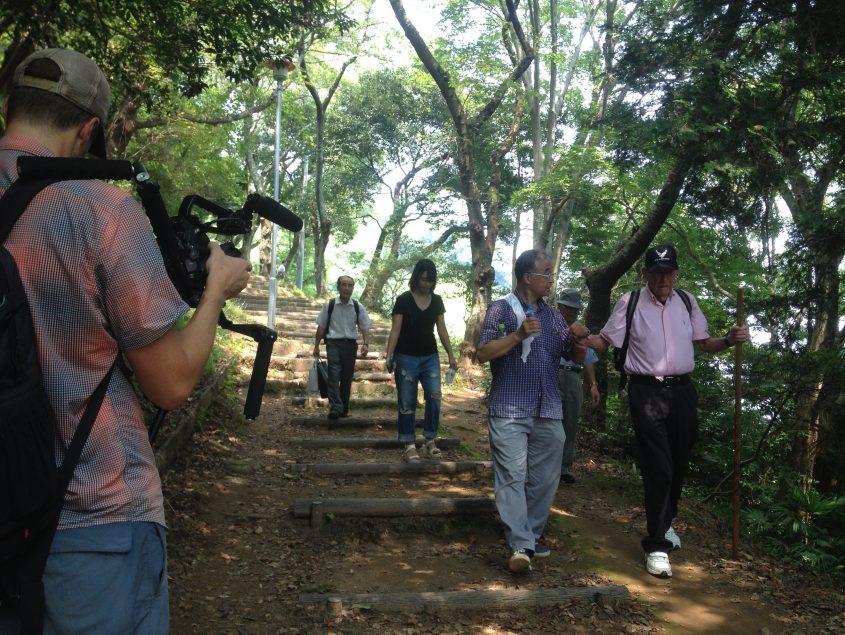 I awakened quite early after a restless night thinking about today's activities. It isn't every day that one is scheduled to visit a family cemetery in a foreign country to pay your respects to a former enemy who became a dear friend and a grandfather to my son Robert's children, Kentaro, Simon and Sara.
Kaz Ohno, an English speaking journalist employed by Fuji TV picked me up at 9, Louisa Merino and Riley Morton arrived almost at the same time. Louisa is a documentary maker from Fairfield, Iowa where I live.  Riley is  a photographer  from Seattle who will work his camera magic at the planned ceremony.
We loaded their film equipment into the trunk of Kaz's rental car and headed towards a small Temple in Tokyo where members of the of the Yamakawa family have been buried for generations. Taro had passed away in 2012 at the age of 87. Sara would meet us there at
9:45
.
The Temple was in a neighborhood of small, two and three story homes and apartments on a very narrow road. Two cars could not pass each other without one stopping and juggling for space. Kaz struggled backing into the allotted parking space off of the street after the three of us got out of the car.
We were the first to arrive. I walked quietly into the open door of a waiting room and felt the silence of the interior. It always amazes me that such an orderly feeling can exist in such a bustling area of active people.
Mr. Ishida of Fuji TV and his crew arrived on schedule. Sara was on time too. The two of us walked ahead of the TV people, Sara carried a large wooden bucket of water and a long handled wooden ladle. I held a metal container of wrapped stems of burning incense. We walked the narrow path through the shrines to the rear of the Temple grounds and stopped and stood in front of Taro's family burial place.
Sara and I stood silently facing the Japanese inscription. She was handed a bouquet of flowers and she placed them in a container, bowed slightly, placed her hands together and remained still. I followed her every gesture. After a few moments of silence she pulled a ladle full of water out of the bucket and slowly spilled the water onto the marble levels of the shrine. She nodded to me and I repeated what she had done. Then we each placed one the burning incense rolls into the slots on the base of the grave marker. We remained silent and prayer like for several minutes. Tears slowly welled in her eyes. I too felt the love of her grandfather and my friend, Taro Yamakawa.
https://captainjerryyellin.com/wp-content/uploads/image1-e1438625709289.jpeg
2448
3264
Yellin
https://captainjerryyellin.com/wp-content/uploads/Captain_Jerry_Yellin_Official_Website_Logo_Reg.png
Yellin
2015-08-03 18:21:09
2015-08-03 18:21:14
Remembering Taro Yamakawa