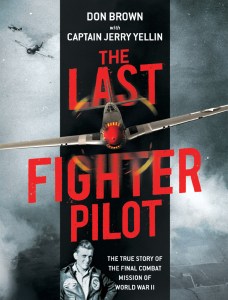 As a member of the 78th fighter squadron during World War II, former Army Air Corps Captain Jerry Yellin flew combat missions in the Pacific, including Iwo Jima — one of the deadliest battles in the war. He shot down airplanes and attacked people on the ground.
"Killing was not something I was raised to do, but we had a ferocious enemy trying to destroy us," Yellin, 93, tells PEOPLE. "Never once did I think of the people on the ground as people. They were Japanese — they attacked Pearl Harbor, they did atrocious things to prisoners of war
"They weren't human beings to us."
So "never in a million years" did Yellin expect to love a Japanese kamikaze pilot like a brother — or welcome him into his family.
Almost 53 after the war ended, Yellin's hatred turned to love when his son, Robert Yellin, married a Japanese woman — the daughter of a WWII kamikaze pilot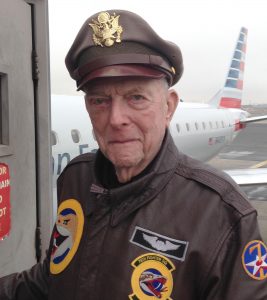 In Yellin's new book The Last Fighter Pilot, co-author Don Brown describes the veteran's emotional WWII experience and his journey to love his new Japanese family.
"Jerry would learn to love, respect, and commune with the very people that he had once, with all of his might, tried to kill, and who had taken the lives of the fellow airmen closest to him," Brown writes in the epilogue.
Yellin — a flying enthusiast from Hillside, New Jersey — enlisted on his 18th birthday in February of 1942. Three years later, he flew the final WWII combat mission in Japan on an attack on airfields near Tokyo. Yellin's wingman and good friend, Phillip Schlamberg of New York, was the last man killed in a combat mission.
"History sometimes serves fascinating slices of irony," Yellin writes in the book. "With the news emerging in 1945 of the Nazi atrocities against Jews half a world away, how ironic that the war's final mission would be flown by a couple of Jewish pilots from New York and New Jersey, and that the final combat life in the defense of freedom would be laid down by a teenage Jewish fighter pilot who had not yet learned to even drive a car."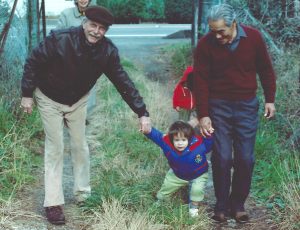 After years spent suffering from PTSD, Yellin returned to Japan with his wife, Helene, in 1983 for the first time since the war.
"I was blown away," he says. "It brought back a lot of memories and I could picture the bombs dropping everywhere, it was hard, but we had incredible experiences with the people and food and scenery."
Later that year, the couple treated their youngest son, Robert, to a trip to Japan. He loved it so much, that he returned in 1984 as an English teacher. During his stay he met and fell in love with his future wife.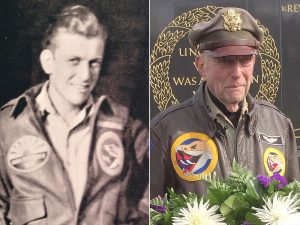 Yellin visited Japan in 1987 to meet Robert's then-fiancée Takako Yamakawa, the daughter of Taro and Hatsue Yamakawa. 
"But her parents wouldn't meet me," recalls Yellin. "Taro was a kamikaze pilot and hated Americans as much as I had hated the Japanese."
It took seven months for Taro to agree to meet Robert. During their first interaction, he asked Yellin's son five questions.
"He asked what I flew in the war," says Yellin. "When he found out I flew a P-51, he said that anyone who flew that was a brave man— and that he would be proud to have the blood of that man flow in his grandchildren."
At Robert and Takako's 1988 nuptials, the two men agreed to finally meet.
"A few days after the wedding, we went with a translator to a hot bath and spoke about our wartime experiences, spiritual beliefs and education," says Yellin. "We talked for four hours and he said he never knew there was someone else in the world that felt the way he did about life. "From that moment on we bonded and became close, close family."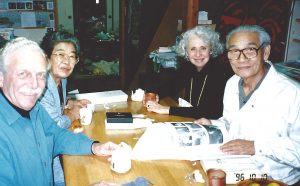 The Yellins returned to Japan every year to visit their son and his in-laws — even after Robert and Takako divorced.
"Sadly, Taro passed away three years ago," says Yellin. "I miss him every day."
Their friendship now lives on through the three grandchildren they share.
"I went from thinking a group of people were my enemy to finding my best friend," says Yellin. "It's a lesson to remember that at the end of the day we are all human and have so much love to give."
WWII Fighter Pilot Finds 'Family' with Japanese Kamikaze Pilot After Their Kids Fall in Love: 'We Are All Human'
https://captainjerryyellin.com/wp-content/uploads/NYPostBookJerry.jpg
300
228
Yellin
https://captainjerryyellin.com/wp-content/uploads/Captain_Jerry_Yellin_Official_Website_Logo_Reg.png
Yellin
2017-08-08 16:50:41
2017-08-08 17:05:58
featured in PEOPLE – WWII Fighter Pilot Finds 'Family' with Japanese Kamikaze Pilot After Their Kids Fall in Love: 'We Are All Human'